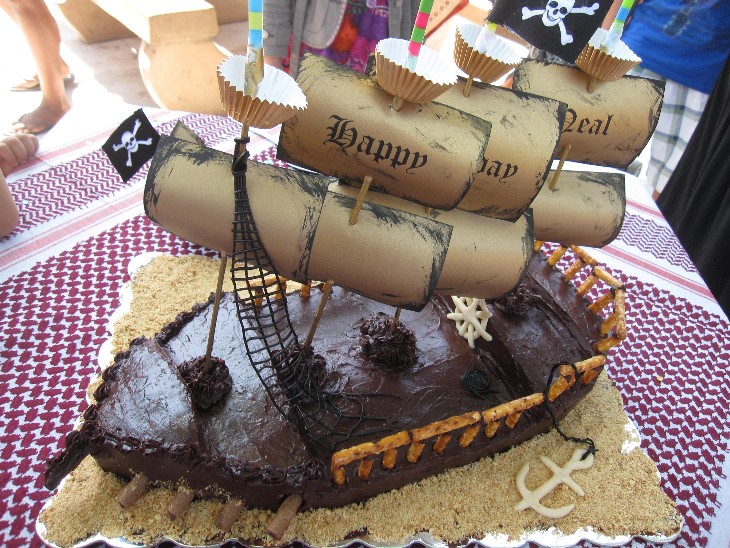 For my four-year old son's pirate themed party, I was asked to make, what else? A Pirate ship cake! The base of the ship was made with a moist vanilla cake, sandwiched with chocolate ganache and frosted with the same.
I tried to keep all the props on the cake as edible as possible, but finally broke down and made the sails and masts from bamboo skewers and card stock, with a real fabric Jolly Roger flag. Gold muffin cups, and melted on candles finished the sails. The rope ladder attached to the mast was carefully crafted from licorice wheels. The steering wheel and anchor were fashioned out of marzipan. The railing was simply pretzel sticks "glued" with ganache, and the cannons on the side were hollow chocolate sticks. The "sand" was crushed graham crackers sprinkled onto a layer of ganache.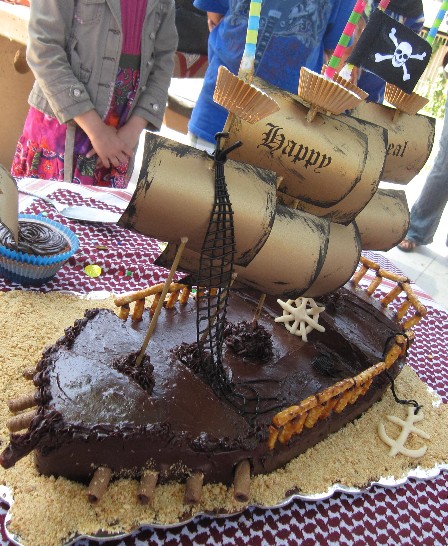 What was nice about this cake was that I was able to achieve the needed effect without feeling the absence of artificial coloring that is so prevalent in birthday cakes of this sort!